The Story of the Stamps
As with everything we produce, in the beginning was the word, and these Postage Stamps are no different.
You've only to read Going Postal to realize the degree of collaboration. As Terry was writing the book, so I was suggesting ideas and producing drawings. Some of the images were suggested by Terry and others resulted from deep and meaningful consultations over a pint or two.
We consulted print historians, philatelists, stamp dealers and museums to get the design and production right.
From my rough sketches and layouts Colin Edwards; who knows the print game inside out, and is a bit of a lad with a Mac, knew a man who could wield a mean quill called Alan Batley.
They could do all the things I couldn't and between us we created the stamps you see today.
It was thanks to the rather splendid Bath Postal Museum I found the last ever, lineal perforator. It dates from Victorian times, and with our help they have got it working again.
That's the good part; the bad part is that this machine like so many of its era does not work on electricity, in fact its leg power, just like a treadle sewing machine. Not only that, the single sheets of stamps have to be fed in by hand, and lined up by eye, not just once of course, but for every line of perforation at each side of the stamp.
The majority of the stamps have been produced in the traditional manner, on old fashioned gummed paper, by a very old and respected company who normally print stamps for entire countries rather than a small outfit in Somerset.
— Bernard Pearson (a.k.a. The Cunning Artificer)
Learn more about the stamps, including detailing and pricing.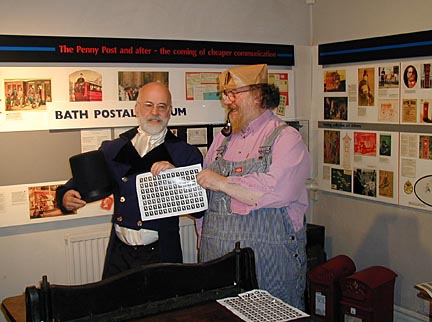 Terry, in the garb of a Victorian postmaster, and Bernard (a.k.a. The Cunning Artificer) display a sheet of as-yet-unperforated "Patrician 1 Penny Black" stamps. Note Bernard's paper hat of the sort that printers once made up of scrap paper every morning before starting work.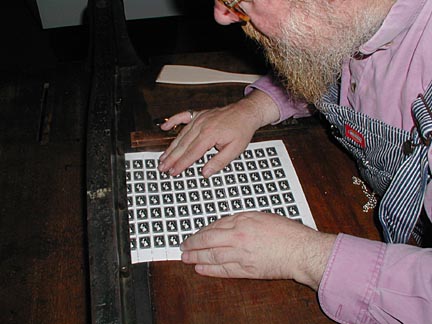 Bernard feeds a sheet of stamps through a vintage perforator at the Bath (UK) Postal Museum. This machine, the last ever "lineal perforator," dates from Victorian times.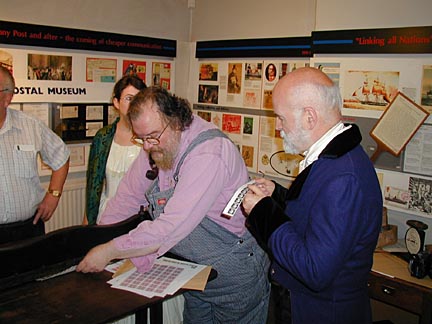 The Postmaster inspects a strip of the final product as his Humble Print Assistant, 4th Class, continues to toil.