Snuff - On Sale October 11, 2011

At long last, Lady Sybil has lured her husband, Sam Vimes, on a well-deserved holiday away from the crime and grime of Ankh-Morpork. Yet a policeman will find a crime anywhere if he decides to look hard enough, and it's not long before a body is discovered, and Sam—out of his jurisdiction, out of his element, and out of bacon sandwiches (thanks to his well-meaning wife)—must rely on his instincts, guile, and street smarts to see justice done.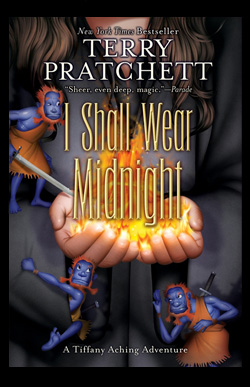 I Shall Wear Midnight - Now available in paperback
Terry Pratchett concludes the adventures of young witch Tiffany Aching and the tiny-yet endearingly rowdy-Wee Free Men in I Shall Wear Midnight, a gripping, hilarious, and wise fourth and final book.
Terry Pratchett Badges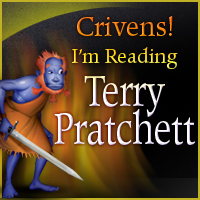 Grab an embeddable Terry Pratchett badge

About Terry Pratchett

Regarded as one of the most significant contemporary English-language satirists, Pratchett has won numerous literary awards, was named an Officer of the British Empire "for services to literature" in 1998, and has received four honorary doctorates from the Universities of Warwick, Portsmouth, Bath, and Bristol. His acclaimed novels have sold more than 45 million copies (give or take a few) and have been translated into 33 languages.
Recent News
Congratulations to Terry: I Shall Wear Midnight was the winner of the Andre Norton Award for Young Adult Science Fiction and Fantasy!
The second North American Discworld Convention was held on July 8 - 11 with Sir Terry Pratchett in attendence! Make sure to check out the NADWCON website for lots of great audio and video content from the convention.
Congrats again to the organizers at nadwcon.org!
As many of you know, Terry Pratchett has been diagnosed with early onset Alzheimer's Disease. Click here to read the speech Terry made to the Alzheimer's Research Trust Conference in the UK earlier this year, where he donated $1 million to aid Alzheimer's research. See the video of the speech here.
If you are interested in helping out, The Alzheimer's Research Trust UK accepts overseas donations here. Or If you would like to make a tax-free donation to the Alzheimer's Association (of America) click here.
Video
Congratulations to Terry on his knighthood!
Click here to see Terry's reaction to being knighted.
Click here to watch a recent interview with the BBC!
A Note From Terry
Welcome to the Discworld. It started out as a parody of all the fantasy that was around in the big boom of the early '80s, then turned into a satire on just about everything, and even I don't know what it is now. I do know that in that time there's been at least four people promoted as "new Terry Pratchetts" so for all I know I may not even still be me.
And welcome to this web page that those nice people at HarperCollins, at great expense, wear and tear on keyboards, etc., have produced. Wow! There may even be bits that flash on and off! At the very least, you should thank them by buying their books!
On Discworld semaphore communication is still the fastest thing around (if you're not a wizard) and that makes the modems run very slowly.
And now . . . have fun . . .