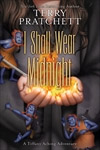 I Shall Wear Midnight
Terry Pratchett concludes the adventures of young witch Tiffany Aching and the tiny—yet endearingly rowdy—Wee Free Men in
I Shall Wear Midnight,
a gripping, hilarious, and wise fourth and final book.
Find out more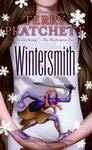 Wintersmith
The Wintersmith wants Tiffany to stay in his gleaming, frozen world. Forever. She will need all her cunning to make it to Spring. She'll also need her friends, from junior witches to the legendary Granny Weatherwax. They—Crivens! Tiffany will need the Wee Free Men too! It's going to be a cold, cold season, because if Tiffany doesn't survive until Spring—Spring won't come.
Find out more
A Hat Full of Sky
The boldest heroine ever to confront the Forces of Darkness with a frying pan is back. Tiffany Aching, incipient witch and cheese maker extraordinaire is off to begin her apprenticeship in magic. She leaves behind her the green, familiar hills of her home and the blue, tattooed faces of her allies, the sword-wielding, six-inch-high Nac Mac Feegle. But something sinister is following Tiffany ...
Find out more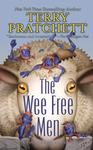 The Wee Free Men
Young witch-to-be, Tiffany Aching, must journey through the terrifying and ever-changing dreamscape of Fairyland to rescue her kidnapped brother. Armed only with a frying pan, Tiffany is aided (if aided is the word) in her quest by the Nac Mac Feegle...
Find out more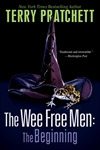 The Wee Free Men: The Beginning
Laugh-out-loud humor and breathtaking action combine in the books that launched the unforgettable adventures of a determined young witch Tifanny Aching and her tiny but fierce blue friends, the Wee Free Men.
Find out more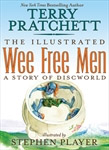 The Illustrated Wee Free Men
A must-have for any Pratchett fan,
The Illustrated Wee Free Men
is a full-color illustrated edition of the book that introduced the world to Tiffany Aching and the rowdy clan of the stealin', fightin' Wee Free Men.
Find out more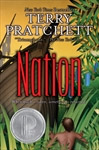 Nation
Something was wrong. The world felt as though something heavy was pressing down on it.
Discover a breathtaking new adventure of a boy whose journey to manhood requires the strength to defy expectations and the courage to forge new beliefs.
Michael L. Printz Honor Book
Boston-Globe/Horn Book Award
Los Angeles Times Prize for Young Adult Literature

Find out more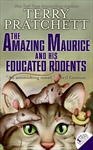 The Amazing Maurice and His Educated Rodents
"This must be the very last time we do the silly 'plague of rats' trick," said Peaches. "And that's final."
A talking cat recruits a group of intelligent rats and a boy with a pennywhistle to cash in on the Pied Piper legend. It's a perfectly planned con job, and it runs flawlessly. Until the day they hit Bad Blintz: the Wrong Town at the Wrong Time...
2001 Carnegie Medal
Find out more